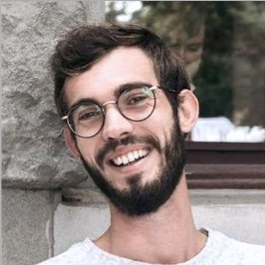 CV
Uwe Baumann worked as a research assistant in the departments for Eastern European History and German Literature at the University of Constance between 2017 and 2018, and at the Institute for Advanced Study, Constance, in 2016. For his master thesis, he undertook field research in South Tyrol, Italy, in 2017. His interdisciplinary master's programme "Studies in European Culture" at the University of Constance included a semester at UC Berkeley (2016) as well as a research trip to Budapest and Szeged, Hungary, with IVDE Freiburg in 2016. He completed his bachelor's degree in Cultural Anthropology and History at the University of Freiburg in 2015, with an exchange semester at the University of Basel (EUCOR-programme). Throughout his studies, Uwe Baumann worked as a research assistant at IVDE Freiburg between 2014 and 2015, and as a teaching assistant at the University of Freiburg between 2013 and 2014. In 2014, he also attended the DAAD-Summer School "BiH between the East and the West" at the University of Sarajevo, Bosnia and Herzegovina.
Dissertation Project
Dark Modernism as Destination? About the Valorisation of "Lost Architectures" of European Regimes to Destinations through Image Practices in the Adriatic.
This dissertation project focuses on how former architectures of European dictatorships get transformed into travel destinations. Along two cultural routes in the Adriatic region, there are many "abandoned" architectures of Italian fascism and the former Yugoslavia, and these buildings have not yet been historicised or transferred into collective patterns of memory. Meanwhile, desolate conditions, as well as the distinctive architectural designs and a "dark" past, have made these buildings extraordinary destinations for urban exploration and made them popular on the internet. These practices of travel and aesthetics are now transferred into institutionalised concepts, which means that tourists' fascination with decay can be utilised for tourist development and culture of remembrance.
Publications
Curating Multiperspectivity. Appropriation of Dissonant Heritage through practices of Urban Exploration, in: "Urbanes Erbe – Ort und Prozess" [Themenheft der Zeitschrift "Forum Stadt"] (accepted).
Baumann, Uwe (2020): "Past Future Concrete" revisited: Ex-Yugoslav monuments shaped as destinations via online image practices, in: Český lid 107, 469-492. doi:http://dx.doi.org/10.21104/CL.2020.4.03
Baumann, Uwe (2020): Book Review: Bendix, Regina (2019): Culture and Value. Tourism, Heritage and Property, in: Zeitschrift für Volkskunde 116, 2; 308-310.
Baumann, Uwe: Wieso eine Regisseurin einen Film über das Sterben im Mittelmeer gedreht hat [Interview with Nathalie Borgers], in: fudder.de (23.09.2020). URL: https://fudder.de/wieso-eine-regisseurin-einen-film-ueber-das-sterben-im-mittelmeer-gedreht-hat–194744908.html
Baumann, Uwe: Gibt es nichts Besseres als den Urlaub? [Interview with Valentin Groebner], in: Badische Zeitung (06.09.2020).
Baumann, Uwe: Die Jagd nach dem Verfall, in: Badische Zeitung (04.07.2020).
Reflections on the study stay in Berkeley on the blog "The Voyage Out" [MA programme "Studies in European Culture, University of Constance]. URL: http://www.kge-connected.com/author/uwe-baumann/
Baumann, Uwe (2016): Book Review: Eisch-Angus, Katharina et al. (Hg.) (2013): Böhmerwald – Šumava. Ethnographische Essays, in: Fendl, Elisabeth u.a. (Hg.): Jahrbuch für deutsche und osteuropäische Volkskunde 56. Münster/New York, p. 218-222.
Papers
Eutiner Landesbibliothek (20.05.2021): Atmopshärische Destinationen. Online-Präsentation im Rahmen der Summer School "Reisen und Medien in Geschichte und Gegenwart" mit Prof. Dr. Stephan Günzel und Prof. Dr. Michael Klemm.
Universität Luzern (13.04.2021): Der Elefant in der Ruine. Repräsentationen von Dissonant Heritage im Spiegel der Faszination am Verfall. Vortrag im Rahmen des Forschungskolloquiums zur Geschichte der vormodernen und modernen Welt des Historischen Seminars.
Universität Bamberg (27.11.2020): "Il museo diffuso" – Aesthetics of Decay as part of the Valorization of Difficult Heritage in the Emilia-Romagna, Italy". Lecture at the conference "ORT UND PROZESS. Verhandlungen von Erbe vom urbanen bis zum ländlichen Raum" by Arbeitsbereich Denkmalpflege des Kompetenzzentrums für Denkmalwissenschaften und Denkmaltechnologien (KDWT) and Bayerisches Landesamt für Denkmalpflege (BLfD).
Humboldt University Berlin (20.05.2020): The Tjentiste Memorial in Bosnia and Herzegovina in Instagram-representations. An example for aesthetic cosmopolitanism? Lecture at the Media & Digital Anthropology Lab (MeDiA Lab).
University of Freiburg (23.5.2019): "Fascinations of Decay" as touristic Resources. How European Cultural Routes adopt Aesthetics of Urban Exploration for sustainable Tourism Development. Poster-presentation at the Conference "Touristifizierung urbaner Räume" by AK Stadtzukünfte and AK Tourismusforschung (Human Geography).
University of Freiburg (10.5.2013): Architecture, Culture and Confrontation – The Hotel 'Paradiso del Cevedale' as a Symbol of Fascist Italianisation in South Tyrol. (Workshop at the DGV student conference).
Assisted at various events as part of the voluntary work of the European Ethnology Student Council Freiburg and was elected member of the student parliament in 2014.
Teaching
Bachelors Course for the module "Anthropology of space": "Umstrittene Räume. Raumkulturforschung in der digitalisieren Welt", Winter term 2020/2021.

Led the accompanying tutorial for the lecture "Methods of Qualitative Social Research" at the University of Freiburg, Summer terms 2014 and 2015.